Powder Coating Huntsville
"Quality Products Made By Quality People"
Old Mill Iron Powder Coating
Offering powder coating services to customers in the North Alabama area. As a recognized fabricating company specializing in ornamental ironwork, we offer only the finest finishes and strive for excellent customer service and quality service. Old Mill Iron Powder Coating is a woman owned business serving the commercial needs in the Huntsville, Madison, Athens areas.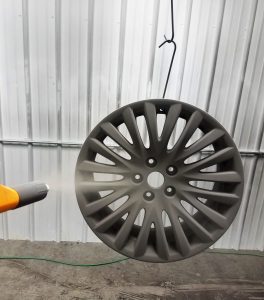 Powder coating services include:
Medical Equipment, Commercial applications, agriculture equipment, Automotive parts, Retail displays and fixtures and signs, Commercial and residential fencing, gates and handrails, Industrial fabrications and components, Building materials, Transportation equipment, Structural steel, Electrical panels, Industrial machinery, Heavy Duty equipment, Fitness Equipment, Office and Restaurant Equipment.
Old Mill Iron Powder Coating offers multiple ways to solve your fabrication, restoration, repair and coating needs.
Contact one of our sales team @ 256.617.3827 or sales@oldmilliron.com.